>
>
>
20KV HV-ⅡType High Voltage DC Power Supplies
20KV HV-ⅡType High Voltage DC Power Supplies
?>
Brand :HVDIODE
Product origin :CHINA
Delivery time :20 TO 40 DAYS
Supply capacity :1000
Product Description
Adjustable high precision and high voltage stabilized power supplies, ion generators, high voltage resistance testers (high voltage resistance screening, glass glaze resistor), high voltage diode withstand voltage testers, xenon lamp testers 0~2KV/5KV/10KV/20KV HV-20KV-Ⅲ.
1.Applications:
A: High precision high voltage stabilized power supply experiment
B: Insulation resistance testing of electrical equipment
C: High voltage capacitance withstand voltage testing
D: IGBT testing, high voltage diode withstand voltage testing, leakage current testing
E: MOS、BJT、controlled silicon diode screening
F: Xenon lamp tests preignition voltage
G: Glass glaze resistor performance testing
High Current Dc Supply, High Voltage Dc Power Supply Manufacturers
Anshan Suly Electronics, High Current Dc Supply is a direct high voltage power supply designer and manufacturer in China.
We are able to offer a solution to most high voltage DC power supply requirements either from arguably the largest standard range of high voltage power supplies within the industry, High Voltage Dc Power Supply Manufacturers High Current Dc Supply or indeed by adjustment, modification or complete custom design and manufacture.
Applications:
Semiconductor Manufacturing Equipment Industry
- Lithography
- PVD
Analytical, and Therapeutic Equipment
Medical Lasers
- Electrophoresis
- Bone densitometry
- Lithotripsy
- Radiation therapy
Research Equipment
- Particle accelerators
- Free electron lasers
Electrostatic Applications
- Pollution abatement
Designed in Quality:
ISO 9001-certified
We are committed to adhere to and consistently improve upon a proper system and processes to achieve customer satisfaction.
Type

Input

Voltage

(KV)

Voltage Control(V)
Overcurrent Protections(W)
Output Power(W)
Current Stability(%)
Voltage Controllable Range(KV)
Voltage Stability(%)
Digital Display Digits(Position)

Input Current(A)

Power Input(VAC)

Input

Frequency(Hz)

Coefficient(ppm)

Temperature(℃)

Temperature(℃)



0-20.00
0-5

5

0-6
Precede0.005
0-20

Precede0.005

4 1/2

0.2

220V±10%/

110V±10%

50/60
100
0-30
-40-+85
Introduction



The multi-turn potentiometer built in the power supply can adjust the output of 0-20kv through 0-5V.

The power supply starts protection automatically when the output power is larger than 5W
The current becomes smaller when the high voltage output

Less than 100ppm per hour after opening for half an hour


Less than 100ppm per hour after opening for half an hour

Switch display the current and voltage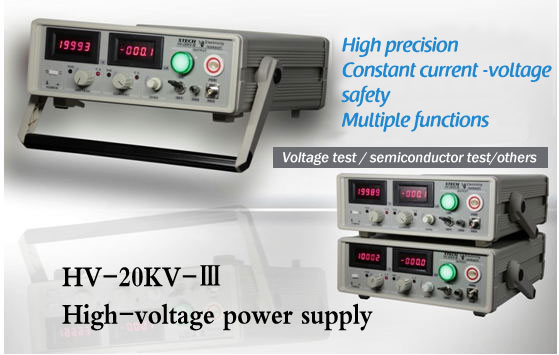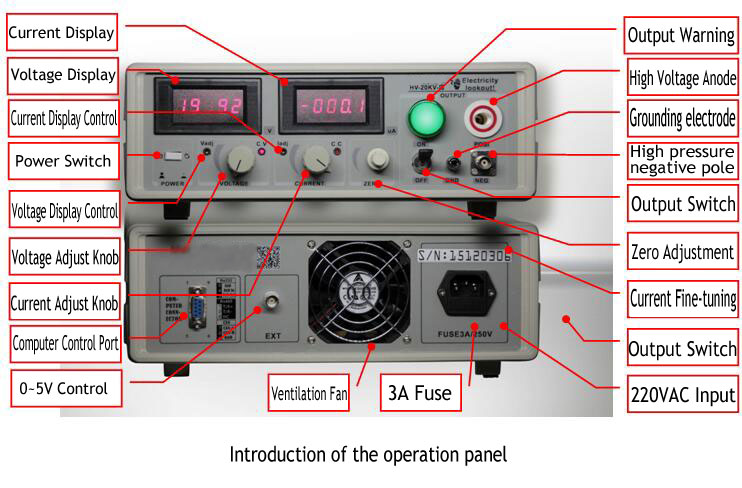 RECOMMEND PRODUCTS
Small-sized X-ray Power Supply
35KV HV-ⅡType High Voltage DC Power Supplies
Get the latest price? We'll respond as soon as possible(within 12 hours)